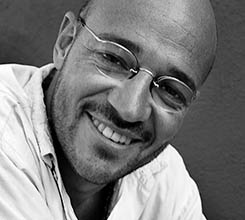 No doubt, Gianfranco Rosi is one of the most interesting directors of our time. And a very good choice it is to make a retrospective of his films at the upcoming IDFA in Amsterdam. And according to tradition to have the director make his Top 10. Very appealing it is, click the IDFA link below and you will get the whole list.
Pleases me so much to see that Rosi also favours Robert Kramer's 255 minutes long "Route One/USA" that was quite an eye-opener for me, when I was at the celebration of the National Film Board's 50 year anniversary in 1989 in Montréal.
And Bunuel's "Los Olvidados", and de Seta's "Banditi a Orgoloso", watched decades ago at the Danish Film Museum – loves that Rosi also includes "10 shorts by de Seca" from the 1950'es. They will for sure be on my list, when/if I can visit the festival (right now it does not look so good…).
Happy to see Susana de Sousa Dias "48" on the list. The Portuguese director does not get the attention, she deserves for her amazing archive films. But – see link below – she has been an important director for the editors of this site.
Final great words from Orwa Nyrabia, IDFA's artistic director:  "Rosi handles every shot like a jeweler would treat a unique pearl, with great care, patience, and with utmost respect, like a sacred object. Then he puts his pearls into a hidden thread, he keeps on examining the way they are ordered, the dialogue between each one of them and the others. What we see in the end is a film, a creature that seems so coherent you cannot see the thread anymore, you cannot imagine that a complex matrix of artistic choices was behind what you see, you even have to think: did he just find the film somewhere? Has it always been there, this way, on its own?"
The photo of a younger Rosi is taken from the catalogue of the Magnificent7 festival in Belgrade 2010, where Rosi came to present his "Below Sea Level" in the Sava Centre in front of more than 1000 spectators.
http://www.filmkommentaren.dk/blog/blogpost/1938/ (About Works of Susana de Sousa Dias)
https://www.idfa.nl/en/article/134787/gianfranco-rosi-hoofdgast-op-idfa-2020