Gibney:Gonzo:Life and Work of Hunter Thompson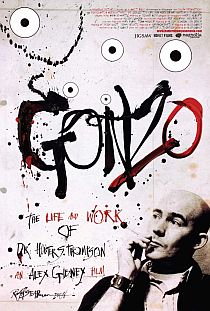 I had hoped for more from this film about a journalist legend that I had heard so much about, read so much about, but never seen a film about. A journalist whose work I had read only a little of, but nevertheless knew about, the one, who gave name to the special hybrid, fascinating kind of reporting that inspired journalists all over the world to leave classical journalism, to fictionalise and talk in first person.
For sure the film has a lot of interesting archive material with Gonzo himself, and includes clips from the film "Fear and Loathing in Las Vegas", has a wonderful collection of 60'es music on the soundtrack, a great walk down memory lane, but the film is not very inventive in its storytelling that is pretty formatted with continuous cuts with people who knew Gonzo and can tell how fantastic he was. Predictable tv like hell.
So for me the interesting look back is on American history with for instance George McGovern as the president everyone wanted until he casted a fragile vicepresident candidate, a gift to Nixon and his gang of crooks. "I've been a good Read", Gonzo says himself, and Johny Depp does his best to argue for this in the film, where he reads texts to the camera, but it does not hide a loose repititive construction of a film about a man, who always went for the wild and totally committed. Gonzo died in 2005.
A dvd version is on its way. And the film goes all over in festivals.
http://movies.yahoo.com/movie/1809963971/info
http://www.cinematical.com/2008/01/22/sundance-interview-gonzo-director-alex-gibney/