Godard, Pennebaker & Leacock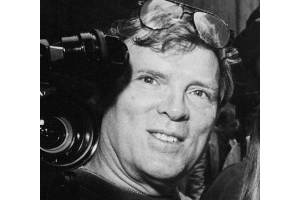 … and 7 wonderful minutes with Jefferson Airplane performing from a roof in New York Midtown in 1968. Yes, it is film and music history at its best as Richard Brody, cinema editor at The New Yorker, wrote yesterday urging the locals to run to the Film Forum to get acquainted with "One P.M.", shot in the revolutionary year, but never completed.
The article is a must-read for all lovers of Godard AND legendary documentarians D.A. Pennebaker (photo) and Richard Leacock. An excerpt from the article by Brody (who wrote "Everything is Cinema: The Working Life of Jean-Luc Godard):
… a rare, obscure, and fragmentary—yet exemplary, fascinating, and even intermittently iconic—film, "One P.M.," … It was, in the event, edited by the great documentary filmmaker D. A. Pennebaker… Pennebaker and another great documentary filmmaker, Richard Leacock, were the film's producers and its principal cinematographers. Godard had intended to call it "One A.M." ("One American Movie"); Pennebaker called his cut of the footage "One Parallel Movie," but the initials, as Godard noted, could also stand for "One Pennebaker Movie." And, in this form, it's one of the most extraordinary time capsules of the era…
Yes, it is politics, as you will see in the clip with Grace Slick and her band but it also reminds you about what the nervous always present direct cinema camera work was. Great.
Read more: http://www.newyorker.com/online/blogs/movies/2013/01/one-pm-all-day.html#ixzz2ImqAxHVu