Grand Opening of Magnificent7 Festival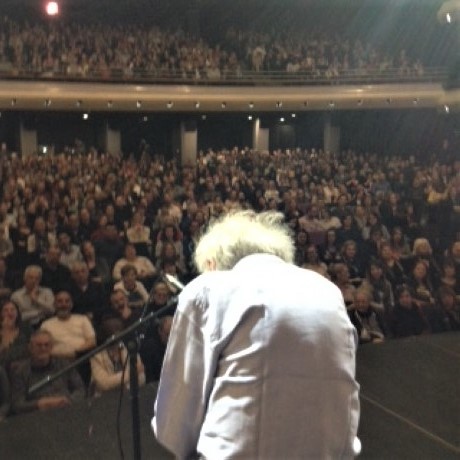 A little after 8pm in Belgrade, at the Kombank Hall, Zoran Popovic, together with his wife Svetlana the director of the European Feature Documentary Film Festival that in the coming week celebrates its 15th edition, walks on stage to greet the audience. The applause is enormous, Zoran Popovic has an iconic status, the love to him has no end, he is greeted as a rock star, a lover of documentary films and a man who is able to formulate why documentaries are important and why we have been organising this event for 15 years. I was on stage to tell how proud I am to be part of the selection, to him and to the totally full house of 1300 spectators, yes 1300 spectators!
They came to see a masterpiece according to the producer and editor Atanas Georgiev, and according to me (review here http://www.filmkommentaren.dk/blog/blogpost/4449/) and the audience seemed to agree, you could hear from the clapping of the hands, while the end credits were running. Atanas Georgiev and the cameraman Samir Ljuma had a more than one hour Q&A after the screening. And not be forgotten the beautiful moment, where Macedonian Zafir Hadzimanov was reciting a poem and singing before the film. He is a singer and actor. He played in musicals (like "Fiddler on the Roof"), and feature films.
You could not hope for a better opening of the festival that to night celebrates the screening of film number 100, "Bridges of Time" by Kristine Briede an Audrius Stonys, who are both here together with one of the producers, Uldis Cekulis.