Happy Birthday / Tillykke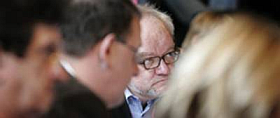 www.filmkommentaren.dk has today been alive and kicking for one year. What started as an idea in the head of Allan, has now become a regular "con amore" passion for the two of us. We are proud and happy to have experienced that after a year and without any substantial promotion, we now have between 450 and 550 computers that hit us every day.
We don´t know (most of) you but we hope you like the texts we offer you. In a year it has been around 300 – and we continue with the ambition to have one new text every day. Be it a review of a new or old (classic), be it reports from different parts of the world, be it the film political discussions we have tried to initiate in Danish. Big or small, personal or informative, we try to do what the newspapers and magazines don´t do. With a clear focus on documentaries.
Remember that you are welcome to take part in debates, comment on what we are writing or come up with texts to be published. In Danish or English.
Photo: TSM in his element, here a Zagreb masterclass..