Harry Tamrazian: Sergei Parajanov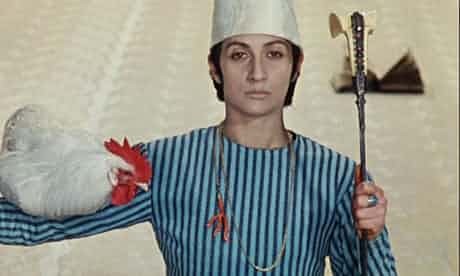 "Everyone knows that I have three Motherlands. I was born in Georgia, worked in Ukraine and I'm going to die in Armenia." A quote from an interview with Sergei Parajanov, this master of Cinema, whose life – with interviews, clips from some of his film, archive footage – is described in the Current Time TV production directed by Harry Tamrazian, feature length, informative, a good tv-documentary.
For me it was a dear re-visit of the world of Parajanov. That I wrote about five years ago when I was in Jerevan and visited the museum that is set up in his name – http://www.filmkommentaren.dk/blog/blogpost/2427/
The museum is not directly part of the film but several of his collages are in the film that competently takes you through his life, his imprisonment because of the Soviet regime accusing him of homosexuality – it was mentioned that he had an affair with a KGB-officer! The best parts, however, are the citations from his films, were you can see how totally visually he was thinking, in many ways revolutionising the cinema language. "Shadows of Forgotten Ancestors" and "The Colour of Pomegranates" – wow – the latter from 1968 still stands out. 1968 was not "only" political rebellion and the invasion of Prague, it was also the year where outstanding cinema was made. There is wonderful archive footage in the film about Parajanov, his voice is being heard, his beautiful relationship to Tarkovsky is explained as is his horrible fate and early death 66 years old suffering from years in labour camps.
After the screening here in Tbilisi I asked younger non-Georgian professionals about Parajanov – they had never heard about him! Now they have the chance to be introduced into his world!