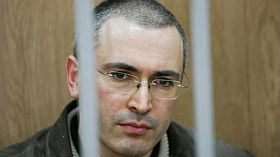 Our German language readers should know about the fine work done by the Stuttgart based Haus des Dokumentarfilms. Yesterday I received a "Dokumentarfilm Newsletter" from the Haus with a link to a website – in German – that provides you with a lot of information, on new docs in German cinemas, support that thas been given, documentaries on television, new dvd releases and so on.
The mission of the Haus: "Unser Haus dient der Förderung, Forschung und der Sammlung des Dokumentarfilms. Wir wollen Filmemacher, Redakteure, Produzenten und am Dokumentarfilm Interessierte zusammenbringen."
Long and good articles about films are to be found on the website, and of course there is information about the ongoing Berlinale, as well as info on the work of the German ag-dok, the strong association for documentarians.
The photo is from Cyril Tuschi impressive documentary about Khodorkovsky. It runs in German cinemas.