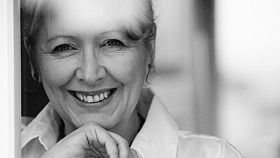 The strength of the time consuming observational documentary, in times where many stylistically move in the area between documentary and fiction (example Glawogger, see below), is one of the most obvious thoughts that comes to one's mind watching the films of Czech director Helena Třeštíková, whose newest work, shot over a period of 37 years, Private Universe is the title, is going around the world, with a world premiere at HotDocs in Toronto very soon.
According to the website that carries the name "film new europe" Trestikova is to be awarded in Krakow at the upcoming festival:
Czech documentary filmmaker Helena Trestikova will receive the Dragon of Dragons honorary award at the 52nd Krakow Film Festival (www.krakowfilmfestival.pl), 28 May-3 June 2012.
Třeštíková won the European Film award for her documentary René.
A graduate of FAMU Prague Film School (www.famu.cz) in 1974, she specializes in long-form documentaries using the time gathered method, filming her subjects for years and even decades. Since 2002, she has been a professor at FAMU. Her latest film, Private Universe (www.negativ.cz) gathered over the course of 37 years, will have its international premiere at Hot Docs in Toronto.
Třeštíková will be awarded the Dragon of Dragons on 30 May Festival. The festival will present a retrospective of her films accompanied by the meeting of the director with the public. She will also conduct a Master Class as part of the festival's Industry Zone. Photo from "Katka".
http://www.filmneweurope.com/news/poland/festivals-krakow-laurels-for-trestikova