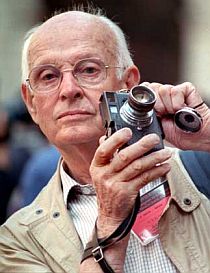 The legendary French photographer is always considered as the documentarian within the art of photography. Now, according to an article written by Richard Lacayo in Time (May 3) a focus is put on his short but remarkable surrealist period. Here is a quote from the article that can be read in its full length on the site of Time. From this article there is a link that will lead you to being able to watch a slate of his works:
With 300 or so photographs, "Henri Cartier-Bresson: The Modern Century," a new exhibition at the Museum of Modern Art in New York City, is, as Ed Sullivan used to say, a really big show. No doubt, nothing less would do to represent the vast scope of an artist Richard Avedon called, with just the slightest exaggeration, "the Tolstoy of photography."
But six years after his death at the magnificent age of 95, Cartier-Bresson proves that you can be one of the most famous names in photography and still be one of its greatest enigmas. For a few years in the 1930s, he was a fiercely dedicated avant-gardist, making pictures that were powerfully strange… In 1931 Cartier-Bresson made a crucial realization: through photography, he could achieve the goals of the Surrealists he so much admired. The MoMA show, which runs through June 28 and then travels to Chicago, San Francisco and Atlanta, is a career-spanning retrospective. But while Cartier-Bresson's Surrealist phase would be just a brief moment in that career, it was a crucial one.
Photo: The master himself by an anonymous photographer.
For reasons of copyright (we can not afford to pay Magnum Photo) no Cartier-Bresson-photo will be posted, please go to the site of Time:
http://www.time.com/time/magazine/article/0,9171,1983814,00.html