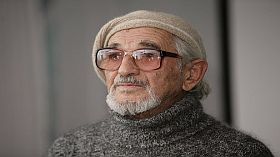 The exhibition space is limited but the content is excellent. The film museum in Riga, situated in the same building as the National Film Centre of Latvia, in the old town of the Latvian capital, hosts a presentation of the life and work of Herz Frank, a filmmaker so often written about on this site.
Frank himself took part in the construction of the exhibition that includes photos and texts and clips from his work, plus the possibility to see in full duration "Ten Minutes Older" (1978) and "Flashback" (2002), just two of the master's documentaries.
The exhibition, I was told, is running at least until this autumn.