Herzog on Death, Danger and the End of the World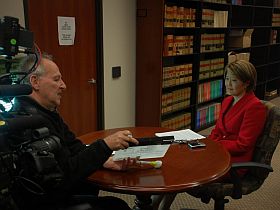 Steve Rose from The Guardian brings Saturday April 14 a very interesting article on and interview with Werner Herzog, whose "Into the Abyss" is screened all over the world in these months. I have taken out this quote from the article that you should definitely read in its full version:
"Into The Abyss (photo) is not overtly about capital punishment. Herzog describes it more as "an American Gothic" – a survey of a Texan landscape of poverty, intoxication, incarceration and death. But he's explicit about his opposition to the death penalty: "I was born when Nazi Germany was still around, and simply because of all the atrocities and the genocide and euthanasia, I just can't be an advocate of capital punishment. There's something fundamentally wrong in my opinion, but I would be the last one to tell the American people how to handle criminal justice."
As well as the documentary, he made another four 50-minute documentaries interviewing other death row inmates. "Not interviewing," he corrects me. "I'm not a journalist; I'm a poet. I had a discourse, an encounter with these people but I never had a list of questions.""
Into The Abyss is out on DVD and Blu-ray on 30 April.
http://www.guardian.co.uk/film/2012/apr/14/werner-herzog-into-the-abyss