Herzog´s Missing Questions…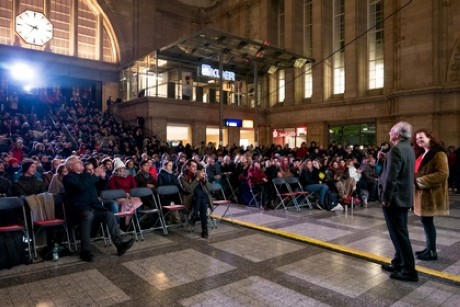 An understatement: They were angry my friends from Lithuania, Georgia and Ukraine. After having watched Werner Herzog and André Singer's "Meeting Gorbachev". Nothing, absolutely nothing about the violent Soviet attacks that took place in Vilnius, in Riga, in Georgia…
Did he ask these questions, Herzog? Did he answer, Gorbachev? Why were they not in the film?
Have to confess that I did not react immediately on this failure from the side of Herzog & Singer but was taken by the compassion and admiration that Herzog demonstrated towards the 87 year old former statesman.
Yesterday, the Lithuanian documentary by Giedre Zickyte, "How We Played the Revolution" was shown as part of the impressive documentary retrospective from the small Baltic country. In the fine film by Zickyte, based on archive, Gorbachev reacts in the Duma towards to the tanks entering Vilnius and the brutality performed by his people at the tv station. We want them to stop (= we will make them stop) the demonstrations and then we can talk. Words to that effect. People were killed in Vilnius as they were in Riga, where the – among others – two cameramen of Juris Podnieks were shot down by Soviet soldiers. It's all documented, Gorbachev knew what happened, he was in charge as the president, he wanted to establish more democracy in the country, he did not understand that the Baltics and Georgians and the Ukrainians wanted freedom, independence.
The film by Herzog/Singer wants to give a historical background through archive and interviews. Essential questions were not raised or touched upon.