Hot Docs 2012 – and NFB Cuts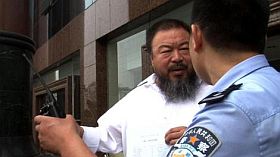 The Canadian International Documentary Festival that takes place April 26-May 6 and that describes itself, and its selected films, as "outspoken and outstanding", has launched its programme and it is indeed an amazing selection of films in variety of themes and geography. Contrary to many American festivals the Toronto-based doc fest is really going to all continents to present films from smaller regions. There are sections like "Made in Southeastern Europe", and there are films from the Baltic region like the Estonian fine portrait of a chimney sweep, a woman, Breath by Kular Viimne, and Lithuanian beautiful debut film "The field of Magic" by Mindaugas Survila. To be found in sections titled "International Spectrum" and "World Showcase".
And there are great films written about on this site like: Private Universe by Czech Helena Trestikova, Five Broken Cameras by Guy Davidi and Ema Burnat, and Vivan las antipodas by Viktor Kossakovsky.
And "star" films like the one that opens the festival Ai Wei: Never Sorry (photo) by Alison Kleiman and Kevin MacDonald's Marley.
A special tribute is given to Michel Brault, one of the pioneers of Canadian documentary. Among the shown is the classic Pour La Suite du Monde that he made with Pierre Perrault in 1963. This film, thanks to the brilliant NFB online catalogue, you can watch free of charge, link below. Sad news about the NFB (National Film Board), according to Realscreen, is " In the wake of the Canadian federal government's budget, released last Thursday and which called for cuts to the budgets of the National Film Board of Canada (NFB), the CBC and Telefilm Canada, the NFB has unveiled several measures that will be implemented over the course of the year, including job cuts, cinema closures, and the reduction of the scope of the Filmmaker Assistance Program (FAP) and the Aide au cinéma indépendant du Canada (ACIC) program.
http://blog.nfb.ca/2011/04/07/pour-la-suite-du-monde-the-perrault-classic-in-english/
http://realscreen.com/2012/04/04/nfb-to-reduce-scope-of-filmmaker-assistance-program-cut-jobs-in-wake-of-budget-cuts/#ixzz1rkFO6bRv