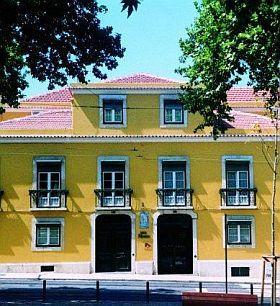 During the doc festival and market season – which is now and lasts until December – your bed waits for you in a hotel, normally booked and paid for by the organisers of the event. Some people hate hotels, can not sleep properly, noise or temperature bother them or the bed is too soft or too hard. I normally don´t mind, I even like it most of the times. For my extensive travelling, I like to be surprised, I like hotels that are different from the big boxes, where you know the whole organisation before you enter the room.
I have just left a wonderful place in Lisbon. Downtown, around 30 rooms, all of them different from the other, classic dark furniture, quiet, bad breakfast (Southern Europe!), free internet access, charming ambiance, fine servic. Site below.
And in Jihlava, my next destination for 4 nights, I know what to expect. Pension Jakuba. Simple, clean, relatively quiet as well (read below), several German channels on the tv (if that is something!), all accompanied by a sound design from two sources. The church bells 50 meters from your bed, and the zoo. The first year I was there, I thought the animal sounds came from inter-human joyful moments in one of the other rooms!
After Jihlava, I am off to Leipzig to the one and only Hotel Michaelis, sooo clean and accurate in all details. Each night you can find a couple of biscuits in cellophane on your pillow, and you have the bible within reach. But no… dont think you can´t sin there. The hotel has a superb restaurant with seasonal dishes and a great variety of French and Italian wines. And a selection of Cuban cigars. Difficult temptation for a person who stopped smoking two months ago!
www.casadesaomamede.com
http://www.penzionjakub.ji.cz/
http://www.hotel-michaelis.de/michaelis/cms/index.php