Howard Webb and Kill the Referee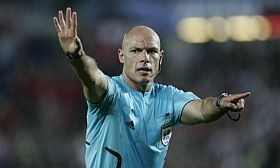 The World Cup final on Sunday with Holland and Spain has English Howard Webb as the referee. For doc-foot addicts he is a very well known person as the main character in the brilliant insight to the world of referees in the following film that I saw in Lisbon last year. This is the text that I wrote, and good luck Mr. Webb!:
"Kill the Referee" is a film of Belgian and Swiss nationality, directed by Yves Hiant, a film for football fans like this blog writer – as loyal readers and friends have noticed. And it is amazing because of its unique access to a handful of referees and to the back stage of the Euro08. The film crew follows the referees into the dressing room, at the internal meetings where the selection of the teams take place and through the video evaluation of the matches, and into the hotel rooms, and at the homes where parents and wives follow their heroes in action. And heroes, well this is not what the players consider the referees to be, it is a hell of a job that takes lot of courage. Howard Webb, English referee, was haunted by the whole Polish nation (including death threats againgst him and his family) after his performance in the match Austria against Poland. He gave a penalty to Austria in the last minute of the match – which was absolutely correct and a very brave decision – but had allowed an off side goal to Poland earlier in the match, for which decision he did not go to the knock-out stage of the tournament. Webb is the hero of the film but there are also fine sequences and follow-ups on a Spanish and an Italian referee. What is the most astonishing in the film is actually that you hear the communication that is done between the referee and his linesmen during the match. Wow, for this technology, and bravo UEFA for letting a film like that be made. Good publicity for the job of being a referee – which does not mean that I will not shout the next time I see an unfair decision from one of those in black!
Kill the Referee, 2009, 75 mins., director: Yves Hinant