Humphrey Jennings: Listen to Britain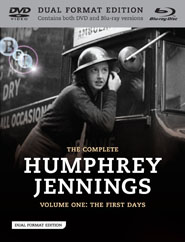 It is still pure pleasure to watch the 17 minutes long short masterly montaged documentary masterpiece by British Jennings, the first of his war-time trilogy. And bravo for the BFI (British Film Institute) for publishing the film, and other films by the director in a double dvd, where the second comes out the 23rd of April.
And also bravo for the Guardian that often brings knowledge about film historical issues to the knowledge of its readers. This is what they wrote as intro to the small clip from the film:
Humphrey Jennings's work for the Crown Film Unit in the 1940s gives us a fascinating insight into Britain during wartime. Here, in a clip from his 1942 short film Listen to Britain, we get a glimpse of his talent for picking out the details in the lives of ordinary people that was acclaimed by the likes of Lindsay Anderson and Kevin Macdonald.
http://www.guardian.co.uk/film