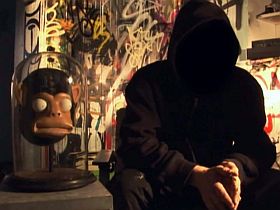 What is the future of hybrid films?… is one of many interesting debates that are to take place during the upcoming cph:dox in Copenhagen, November 1-11. It is the tenth edition of the festival with five international competition programmes, more than 200 films, 16 concerts, seminars, a forum, debates, events, "and a birthday party, of course" – all can be checked on the website of the festival.
Back to hybrid films, this is the text that introduces the interesting seminar:
Over the past five years, the borderland between fiction and non-fiction has experienced a true creative boom. The field includes many different films, for example'The Ambassador', 'R', 'The Arbour', 'Quattro Volte', 'Exit Through the Gift Shop' (photo) and not least films made by the godfather of the whole movement, the Austrian Ulrich Seidl. The number of documentaries that can be found in this hybrid field is growing, and so is their artistic success. Hybrid films have the potential to deliver complex stories with a strong basis in reality, but with a fundamentally cinematic interpretation of it. But it is also a difficult field – financially speaking. For how do you support a film you don't know for sure if it is a documentary or a feature. Are the traditional genre definitions experiencing a paradigm shift, and what does this mean for how films are developed and supported? We have invited a number of film experts, whose professions all involve working with and supporting the new hybrid film forms. Meet, among others, Channel 4's Tabitha Jackson, the woman behind some of the most successful hybrid films, such as The Arbor. Lucas Smith from ZDF, who supports both fiction, non-fiction and new hybrid formats, Thomas Robsahm from the Norwegian Film Institute and Martin Schweighofer, the director of the Austrian Film Commission, which has a particularly strong tradition of supporting the new hybrid wave.
Date November 7.