I am Breathing/ Letter to Oscar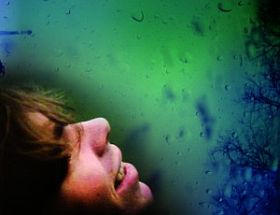 Emotional moment when Emma Davie welcomed her audience at the premiere of the film at Munt cinema. She stressed how much her main character, Neil Platt, who died three years ago, wanted the film to be made, to have a focus put on his disease, Motor Neurone Disease and consequently to have more medical research done in that field.
Emma Davie, who made the film with Morag McKinnon, made the audience aware that the family was attending the screening. The main protagonist, however, together with Neil, was not there, his name is Oscar, he is the little boy, who runs around his father, the film could have been entitled "Letter to Oscar", which is what Neil is writing, a letter, added with a beautiful "memory box" for his son to remember his father. Remember Humphrey Jennings "Diary for Timothy"?
Well, he – Oscar, must be 5-6 years old – now, has a film that is made for him and for a big audience, I am sure.
Here at idfa there are two hit lists of most watched films. One is at "Docs for Sale", where buyers come to watch, "I am Breathing" is number 4 with 44 screenings by November 21. The other is the Audience Award Top 10, where "I am Breathing" is number 7. Well deserved!