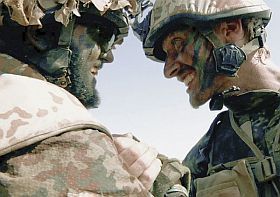 The Forum for International Co-Financing of Documentaries holds its 18th session. There is a friendly atmosphere at the round table where tv commissioning editors sit to comment on the projects that are pitched. Maybe too friendly for a veteran participant as me, who knows that only a small percentage of the film projects that are met with a positive attitude actually get financing at the meetings that are held afterwards. This has always been like that, it takes time and all film projects are being pitched again and again. Before finally the money needed is in place. And it is not easier with the financial crisis world-wide.
You may like the pitching concept or not – it IS absurd to think that you can present your film project in 7-8 minutes – and the making of the trailers is an art in itself and in many cases it says nothing about how the film will be. BUT it still gives you a strong impression to see all these film professionals gathered at one place for ONE reason: to have good, creative documentaries made. The pitching of the about 40 film projects from all over the world is one thing, the more than 700 individual meetings pre-planned, meetings between makers and buyers another. What a logistical achievement. Respect!
… and at the festival – idfa staff proudly states – 17 films are shown that were previuosly pitched at the Forum.
Photo: "Armadillo", pitched at the 2009 Forum.