Idfa Forum: Justice for Sale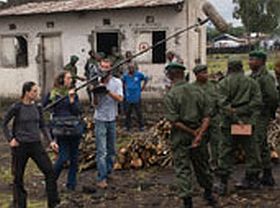 I post this article from the idfa site to higlight one of the most appreciated documentary projects that was pitched at the Forum 2010:
Twin sisters Ilse and Femke van Velzen, filmmakers and human rights activists, returned last week from the Congo, where they are shooting their latest film Justice for Sale, to pitch the international funding community for the €175,000 needed to guarantee its completion. Forum attendees heard their pitch yesterday. Nick Cunningham reports.
Justice for Sale follows two young Congolese human rights lawyers who battle against injustice in their homeland. The film is the Van Velzens' third on the subject of the Congo, following Weapon of War (2009) (PHOTO) and Fighting the Silence (2007). "As young girls in primary school, we stood up for other children that were bullied," explains Ilse. "Years later, when we started to make films about human rights, we realised that we can expose injustice [in
developing countries] to a worldwide audience and give oppressed people a voice."
The film, she further explains, is not just about corruption, but also the total failure of Congo's judicial system. Quite often, victims of crimes will never see the perpetrators in court, and every year thousands of innocent people are wrongly accused and imprisoned in inhuman conditions. "Corruption is found at every level, big or small," she claims. "So corruption is seen and felt throughout the whole film."
So far, the Van Velzens have secured a pre-sale to Dutch broadcaster IKON. Their aim over the next few days is to doorstep as many international commissioning editors as possible to build the widest distribution base for the film.
Ilse explains why the medium of documentary is effective as a campaigning tool for the causes she espouses. "For a Western audience, it creates awareness," she stresses. "When people don't know or are ignorant about a certain subject, they cannot act. When they know what human right abuses happen in the world – because they have seen a documentary that goes deeply into the subject – they at least have the option. That is important. Secondly, it's very important that human rights films are also brought to the attention of policymakers, international governments and NGOs. It can work as a very powerful lobby tool."
Justice for Sale was developed at leading documentary development programme Greenhouse, under the part-tutelage of Dutch documentary filmmaker John Appel (The Player, 2009). "It is very well researched and they have two very good characters: two lawyers, who are really engaging, so they have a very good starting point to make a strong film about the legal system within the Congo," he explains.
"The main goal for Greenhouse is to make a subject into a film and to look for universal meaning and to add more and more layers. I think that Ilse and Femke, having made a few films already, are now more aware of what it means to have a more cinematographic approach to the subject, and we will help them with this."
Nick Cunningham