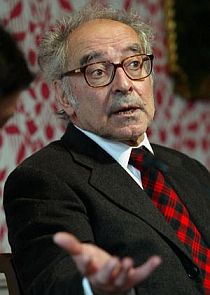 An interesting compilation of films has been advertised for the coming idfa:
Israeli filmmaker Eyal Sivan (Haifa, 1964) will compile this year's Top 10 for the 22nd International Documentary Film Festival Amsterdam. Major themes in his Top 10 include how our collective memory works, ethical issues and the representation of history. Themes that are also central to his own work. Here is the list of films:
Blind kind, Johan van der Keuken (1964), Ici et ailleurs, Jean Luc-Godard (photo) (1976), Hitler connais pas?, Bertrand Blier (1963), Ma'loul, Michel Khleifi (1985), The Memory of Justice, by Marcel Ophüls (1976), Moeder Dao, de schildpadgelijkende, Vincent Monnikendam (1995), Testimonies, Ido Sela (1993), Punishment Park, Peter Watkins (1971), Philips Radio, Joris Ivens (1931), S21, La machine de mort khmère rouge, Rithy Panh (2003).