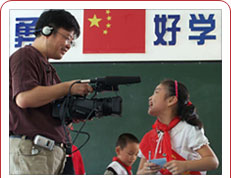 Breakfast meetings in the hotel. This morning I was lucky to meet Chinese Weijun Chen, the director behind the international successes "I Will Vote for You" (photo) and "The Biggest Chinese Restaurant in the World". He was in Amsterdam to meet his producer Don Edkins, the man behind the big series "Steps for the Future" and "Why Democracy". Now he has entered and launched another mega project "Why Poverty", see details on the site below.
Weijun Chen stands behind one of 8 long films in the series that has Nick Fraser from BBC and Mette Hoffmann from DR/TV as editors. More than 40 broadcasters around the world have joined the series that will have its premiere in one year and will also provide a website connected, plus several short films.
Here is a text clip from the site describing the film of Weijun Chen, quite a controversial film for China I guess:
In ancient times in China, education was the only way out of poverty – in recent times it has been the best way. But just over ten years ago, when higher education was commercialised by order of the government, the start of a major change in China's society took place. The equality that once existed for all students has been destroyed, and for the millions of college graduates who come onto the job market each year, the future is bleak. Chinese Dream is a film that charts a societal shift that will have an impact on the future economic progress of China.