Images from the Revolution in Egypt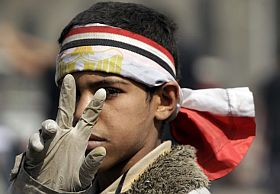 I was watching the Danish news magazine Horisont (modelled after the BBC Panorama strand) last night, prime time on DR, our public service channel. They had 25 minutes on Egypt. I sat down with some expectation that was competely let down. It was as it used to be: a journalist with a microphone in hand walking on Tahrir Square with some interviewees, a little trip to the countryside to hear what a pro-Mubarak peasant have to say, and then back to the studio for further comments. Boringly put together, giving no real sense of what had happened, just a little pro et contra, information, no emotion. Pedestrian.
Earlier that same day I had seen some videos on vimeo (excellent platform for transmitting films and videos). Videos made by young people, who was there when the uprising happened, who took part and who have had the talent to put some short visuals together in a structured way, with a sense for building a story and for giving the atmosphere of being where a total change was taking place. Here is a text that is an intro to the videos you may want to watch. There are more to find, signed by one of the activist filmmakers. Jasminah Metwaly:
Intifadat Intifadat, a collective of filmmakers, won the Streaming the Revolution Award (at a festival in Cairo, ed.) for three videos they submitted. According to the jury, these videos showed an incredible sensitivity with the camera. More than merely scenes of protest, the videos convey a sense of raw emotion. The carnivalesque aesthetics show sophistication with both content and form. These videos demonstrate acute skills in depth of field, composition of shots, and creative editing.
The Downfall of Mubarak (6'23): vimeo.com/20169177 Torah (5'25): vimeo.com/21000128 Cairo Intifada (5'59): vimeo.com/19513814