Ina Holmquist & Emelie Wallgren: Kiss Bill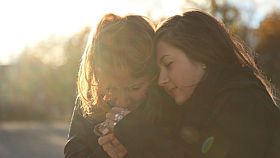 There is 50 years between me and the two teenage girls; I have never heard about a German pop star called Bill from a band called Tokio Hotel; I am not sure I want to hear him play or sing, but I have no problems in remembering how it was for me at that age to go to the Beatles concert in Copenhagen or to become more than happy when I got the autograph of the world's greatest football player, Brasilian Pélé.
So it is not difficult to understand the instant heartbroken disappointment, when the two girls, Arina and Angela, arrive at the Madame Tussaud in Berlin to discover that the wax model of their hero Bill has been taken fo Amsterdam for some months!
This very charming short documentary, which has been to festivals, including idfa 2010 and Free Thought in Moscow, and which is produced at the Swedish film school, Dramatiska Högskolan, is a very promising work by the two female directors. They demonstrate first of all the talent for creating a space full of tension and humour for the two girls to move in, they catch and construct moments of truthfulness, they mark the generation gap between the girls and their parents… "for us it's happiness, what do you have in your life", is one of the great lines from the girls talking about their addiction to Bill. The special dreamerish world of teenage girls is conveyed brilliantly in this film that (also) has fine camera to be happy about.
http://www.idfa.nl/industry/tags/project.aspx?id=BE664CA9-B8F3-47FA-8EC6-637581956B51
Sweden, 2010, 28 mins.