Isabel Grünwald: Brothers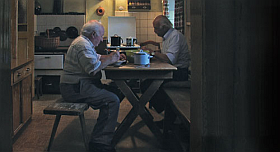 Something went wrong. Difficult to say what. Anyhow, the two old brothers live together but do not communicate. Somewhere in the north of Bavaria, in the countryside, where Heiner has inherited the farm and Fritz takes care of the household. Fritz makes a wonderful cake according to the way, mother did, but Heiner comments to the camera that the one mother did was much better! "It used to be different". "It started when he took away my puzzles. Yet he never solved one himself".
There is so much unsaid in this well composed (editing, camera, music) diploma film from the Zelig Film School. The pauses are as important as the scenes where the brothers talk. You sense the soul of the mother in the rooms. The brothers are treated with love and respect, and you can't help feel compassion when Heiner towards the end of the story shows the pictures from his youth. He was in the army during WW2 and was sent to a pow camp in England. A photo of a young woman is accompanied by Heiner's remark that he regrets not to have learned English. Fritz is the philosopher, who lives his dreams between flowers and ripe grapes.
The film is to be found in the programme of idfa.
Italy/Germany, 2007, 50 mins.