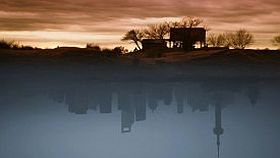 The Brasilian documentary film festival starts March 22 and runs until April 1. Amir Labaki, director of the festival, film critic and cigar connaisseur, has again put together a programme of high quality, with competition sections and retrospectives. Among the 16 films in the international competition, you find titles like Five Broken Cameras (Bornat and Davidi) and ½ Revolution (Shargawi and el Hakim), both with themes from the Middle East, the Polish master Marcel Lozinski's Tonia and Her Children, the idfa winner Planet of Snails (Seung-Jung Yi) and Putin's Kiss by Danish Lise Birk Pedersen.
Retrospectives are dedicated to Argentinian Andrés di Tella and Brazilian master Eduardo Coutinho, and out of competition the Brazilian audience in Rio de Janeiro and Sao Paolo will be spoilt with films like Vivan las Antipodas (Kossakovsky) (Photo), Crazy Horse (Wiseman), Into the Abyss, A Tale of Death, A Tale of Life (Herzog) and Duch, The Ironmaster from Hell (Rithy Panh).
In a Latin American Showcase it is great to see El Huaso by Carlo Guillermo Proto, that had its European premiere at DocsBarcelona.