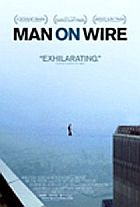 It is more than 30 years ago. I remember it vaguely. I remember that he did it. The tightrope walking between the the twin towers in New York in 1974. But I did not remember the story behind it. That I do now after having watched this brilliant documentary film about French Philippe Petit and his team, that made the walking – no it was, as said in the film, the dancing on the tightrope. A dance that was illegal, planned like a bank robbery, a dance that lasted only 45 minutes and was documented in photos taken by one of the most fascinating (there are several) side characters in the film, Jean-Louis Blondeau.
Photos from the performance, yes, that is what they had for the film, and of course some archive material from the building of the World Trade Centre, and from previous performances in Paris and in Sydney, and of course also some great archive from the training that proceeded the coup, as it was called. But otherwise the filmmaker – as the red thread of the narrative – builds up a suspense story in a montage that is combined with the characterisation of Petit as a true "mauvais garcon", a street joggler and magician, who is not able to or does not want to answer the question: Why?
It is a playful and beautifully constructed film that will for sure come to a cinema near you. Or a festival. And for sure also on a tv screen. It has this enormously precise definition of the genre it works within. Clips can be found on the sites below.
http://www.youtube.com/watch?v=9vztE8eeYFE