Jan Banning: Bureaucratics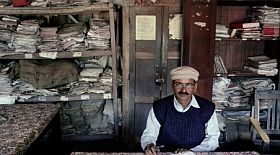 It is such a good idea: To travel to many different countries and take photos of bureaucrats. Dutch photographer Jan Banning did so together with colleague writer Will Tinnemans. Together they made a book – you can browse through it on the site of Banning, address below – and an exhibition, which for the moment is in Copenhagen.
Civil servants behind a desk, lots of details to study behind them, in some cases loads of paper on the desk, family photos behind them or a pin-up girl or two, great cultural studies the colorful photos are, with serious people with a big responsibility and a small salary, if any, in many cases the following text informs the viewer that salary has not been paid for months. Where were they? – In China, in the US, in Russia, Yemen, France or in Bolivia where the police officer runs an office with no phone, no typewriter and no car. Excellent documentation, entertaining and thought provoking for a spoilt Dane.
Made me think of myself and my 20 year life behind the desk in the Danish Film Board, loads of paper and for some years pretty good funding to distribute to filmmakers on the other side of the desk… No, I don't have a photo for this text!
The book: Publisher: Nazraeli Press (November 7, 2008). Third run limited availability.
ISBN-10: 1590052323 / ISBN-13: 978-1590052327
For the Danes: 'Bureaucratics' i Nikolaj Kunsthal, Nikolaj Plads, København til den 30. Oktober
Photo from India, taken by Jan Banning.