Jan Gogola on Dusan Hanak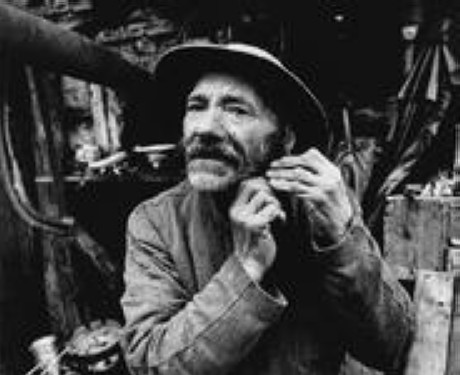 I am in Banská Stiavnica in Slovakia, where the first session of the Ex Oriente workshop takes place. I have been invited as a substitute for Iikka Vehkalahti and I am happy to attend at the workshop of which I was part from the beginning, was it in 2002?, until I stopped in 2009. 12 projects with director and producer present from the CEE countries take part, in a later post I will mention some of them.
Last night Jan Gogola, director/dramaturg/script writer/teacher, a clever man, who was also at Ex Oriente from the beginning, had been asked to talk about and show clips from films by the two legendary directors, Slovak Dusan Hanak and Czech Karel Vachek. A very fine session that took place in the Cinema Akademik here in the Kulturstadt Banská Stiavnica. He showed fragments from "Pictures of the Old World" from 1972 by Dusan Hanak, a film that I have adored and used several times at different schools. And from Vachek's "Moravian Hellas" from 1963.
Gogola thought that Hanak had chosen to make his film four years after 1968 to remind the audience of human values forgotten after the normalisation process started with the occupation of Czekoslovakia by the Warsaw pact countries. The fragments, around 20 minutes of the hour long documentary, reminded me of a tradition for philosophical reflections, old people and their faces, a man with a microphone asking "what are the values of life", it is sooo moving and so wonderfully filmed with close-ups and sometimes still photos. Gogola said that the film is not a document, it is a monument. Normalisation… meant that the film was "kept out of public space for 20 years".
Have to confess that I am not able to "enter" Vachek's films, there are too many references to history and culture of Czekoslovakia. Sorry.
After the presentation I talked football with Gogola, he is a connaisseur, we talked Nedved, Masopust, Hamsik, Peter Czech… and Panenka, who is the character of the great film Gogola has made.