Janus Metz og Sine Plambech: Heartbound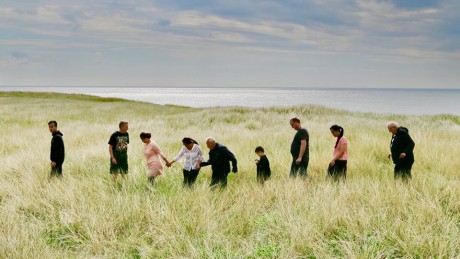 International release: 10th of September 2018 – TO-DAY – at the Toronto International Film Festival / Domestic release: 20th of September 2018.
Janus Metz og Sine Plambech's films about this tale are Love on Delivery, 2007, Ticket to Paradise, 2008 and Heartbound, 2018.
ARRANGED MARRIAGES THAIS & DANES
The films take us to a windblown corner of North Jutland, where 575 Thai women live with their Danish husbands. Fifteen years ago there was only Sommai, a former sex worker from Pattaya. Opening with Sommai, the two films describe a network of strong, resolute Thai women who, through their marriages in Denmark, provide for themselves and an entire village in Thailand. Underlying Janus Metz' documentaries, "Love on Delivery" and "Ticket to Paradise" is a focus on globalisation, poverty, prostitution and the universal need for security and love. Allan Berg Nielsen's reflects on these two works, selected for IDFA 2008.
The location is introduced in beautiful photography by cinematographers Lars Skree and Henrik Bohn Ipsen. There is authority to these shots. A Jutlandic landscape that's much, much more than a windswept corner of the country. A region and a people with a singular way of life, great dignity and their integrity intact. The photography conforms to my vision of the place that was shaped sometime back in the Romantic Age. Sommai is introduced with similar beauty and sureness. At first, it's all about her. Once a stranger to these parts, she is now so integrated as anyone can be who looks different and comes from the other side of the globe. Then the story begins. All is well and good. I feel in good hands, from the beginning of the first documentary, Love on Delivery. I know I'll stick with it. I sense that right away, because there's a real story here, a love story that continues and concludes in part two, "Ticket to Paradise."
LOVE ON DELIVERY (2007)
Sommai has been asked to arrange a marriage. She has done so before, found women in her home village and partnered them with men in Denmark. These women stick together, and we get to know two of them. As usual, Sommai has three months to get the job done, the duration of a tourist visa. The person we now turn our attention to, her sister's daughter, arrives and is uneasily plunged right into things: classified ad, replies, choosing, meeting the man. Kjeld is his name, a nice, shy guy. Her helpers leave. Despondent, she stands in the doorway of the man's house, the first truly gripping scene. What will become of her, this young woman, Kae?
This is a TV documentary, sure, but it looks nothing like reporting. It's an elementary tale, and I want to know how it continues and ends, for now. Happily? (Meanwhile, there is a certain amount of required material to go through. The story appears to be set inside a social anthropological study.)
The film is a study of a unique, friendly community in a sweeping landscape. Another man found his girlfriend in the same way. As he soberly recounts, it "wasn't love, but I thought she was … nice!" That's one way to put it in our language, a colloquial Danish
that the documentary also describes in a special linguistic sub-plot. The region's dialect is intact and the Thai women speak it in their own distinct way, underscoring their peculiarity.
Toward the end of the first film, I realise that, formally, this is an ethnographic project, a case study of carefully arranged marriages. But inside this piece of scientific fieldwork, Marion Tuor, the editor, delicately teases out a story that grows in intensity as the couple's feelings change. It simply keeps getting more beautiful. And of course, I'm riveted, the documentary's title nudging my mind, 'The Story of How Kae Met Kjeld'
TICKET TO PARADISE (2008)
A temporary climax to the story occurs at the opening of the second film, "Ticket to Paradise". The segment is handled with such filmic resolve that it surely has to rank among the many splendid weddings in film history, and among the oddest. It's certainly lovely, in its stylised detachment and precise truncation. Here, editor Marion Tuor, seamlessly fuses the two films' parallel ambitions, the social anthropologist's and the filmmaker's, rational explanation and sentimental movement. Throughout this dual film project, director Janus Metz collaborated with an ethnographer, Sine Plambech, and it's interesting to note the degree to which scientific and cinematic methods and understanding merge.
The wedding is followed by separation. Kae's visa has expired and she has to leave the country. I sense that things will not turn out well. Kjeld reveals as much, by a verbal conjugation, in an elegant flash-forward, describing the first few days after the wedding as the richest of his life. So, I think, things are bound to go wrong soon. The scenes linger, carrying the narrative bulk, often without dialogue. The overall tone is subdued, as are the internal monologues.
Then everyone, with his or her own serious task, seeks out Kae in the women's remote village, and the scientific project takes over. We arrive in Thailand, and in the village. Now doing fieldwork, we sit in on a series of arranged and directed interactions that, subject by subject, uncover the village's economic and moral situation. Now, I'll do well to forget my romantically shaped outlook and, with it, love. This is all about the facts.
All the while, Skree's cinematographic line continues unbroken, Tour's editing still tells the story in whole scenes and – because the necessary journalism is subordinated to these moves (with brief reporting excursions: one to the city, to the bars and the culture there, and one of painful negotiations with a child father and ex-husband, a dramatic highlight) – I grow increasingly concerned (what happens to Kae and Kjeld during all these side stores?), subjected as I am to the editing's unrelentingly calm turning, its resting in a scene until a moment before the scene dies, the wistfulness behind rare smiles (what's Kjeld thinking during all this, his honeymoon?).
The two films explain a slew of issues. The carefully rendered scenes are even more revealing and the understatement and hesitant rhythm tell me that the films understand that we won't get to know everything. We can't. What do these women's short sentences and long silences also say? What really goes on behind Kae's wistful gaze? Kjeld is finding out. (Former printed in FILM # 64, DFI, 2008)
HEARTBOUND (2018)
Synopsis. " 'Heartbound' is a unique longitudinal study of a network of Thai/Danish marriages shot over ten years. It is an exploration of globalization over time set on the intimate stage of marriage and family.
The film follows four couples and their children and documents how their lives develop as a consequence of the economic and emotional bonds that tie them together. It is an ensemble piece and an epic family drama set in two outskirt communities at either side of the global divide – yet intimately connected through marriage migration.
Through its dynamic time span the film traces how the women's migration and their efforts to help their families affect their children many years down the line. Simultaneously it looks at the ways in which men from a remote region in Northern Denmark try to adopt the great big world to their safe and well-known quarters.
'Heartbound' is a film about our shared human needs for love, dignity and money – even if our cultural interpretation of these needs may differ. It's a film about people who try to change their lives when choices are few, and a film that explores the consequences of these life choices not only for the men and the women who make them, but also for the children who have to live on with them.
In this way, 'Heartbound' ties together migration and integration over a unique time perspective and discusses one of the greatest movements and challenges of our time: The increasing flow across borders of people, money and ideas in our global sharing of the present." (Synopsis, Magic Hour Films' site)
International release: September 2018 at the Toronto International Film Festival / Domestic release: 20th of September / Genre: Documentary feature / Directed by Janus Metz and Sine Plambech / Production Company: Magic Hour Films and Metz Film / Coproducers: Upfront Films, BALDR Film, Vilda Bomben Film and Film i Väst / Production Countries: Denmark, Thailand, The Netherlands and Sweden.