Jay Bulger: Beware of Mr. Baker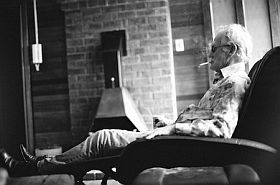 For one who was around 20 in the short lifetime of Cream – 1966-68 – with "White Room", "where the shadows run for themselves", as one of their songs that still gives you the chills when you hear it, and you do so in this film, with old man Ginger Baker in a chair smoking constantly talking about his incredible career as drummer and constant traveller in Life… Yes, this is pure shocking pleasure that stays untouched for the whole duration of a documentary that puts its focus on a man, who socially with other people was quite an asshole and according to colleagues and critics the best rock drummer ever.
Normally you say that you must have some kind of empathy for a main character in a film. It is difficult with Ginger Baker but his Life and his no bullshit attitude to a film about himself is second to none. Are you a tragic hero, the director asks him, the answer is "go on with the interview, stop being an intellectual dickhead". And he does, the director, and gets it (all?) into the film: the childhood, the early marriage and his first child, his wives, his inspiration from other drummers, mostly from the jazz scene (he was more a jazz drummer than a rock drummer, several colleagues say), his journey around the globe with constant controversies and break-ups.
The material is unique, archive from concerts, from previous televison reports, music videos before they were called that, so much has been recorded including his travel to Africa, the origin of drumming, where he set up a studio, performed with Fela Kuti, afrobeat musician, and started to have interest in horses and polo playing. It is a rich film, full of details, and where there is no archive and we need to leave the old man in his armchair down in South Africa on his ranch, fine animation sequences come in and do the job – like when Baker and Jack Bruce shout at each other with the third Cream member, Eric Clapton, in the background, suffering when the two were fighting. Sorry Eric, says Bruce, who looks like a poor forgotten bird in the film, referring to the times when Clapton had a breakdown because of the tension between the others. Clapton, by the way, is as always pleasant and precise in his characteristic of Baker, as he was with George Harrison in Scorcese's film.
Baker is a man who needs oxygen to breathe, but in his 70'es still makes his gigs once in a while, and who needs morphine to ease the pain after a hard life as a junkie, and who at any time would prefer his drums to anything or anyone else and whose best friends were his drumming idols – among them Max Roach, who said "Ginger plays like a Nigger". Talking about this is the only time Baker shows any emphatic emotions in a film that is basically chronological, very much based on interviews, maybe too many, but with a fine sense of Time as Baker says of himself.
USA, 92 mins., 2012