Joao Moreira Salles: Santiago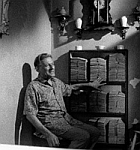 It is one of those films that is a must for documentary addicts like me, and why not for people who in general are interested in the examination of the relationship between the filmmaker and his/her victims, their protagonists, their characters, whatever you want to call them.
It is Brasilian, made by one of the Salles brothers, the less famous, and I wrote about it earlier on this blog. Just search the title and/or the director's name.
The reason to bring it up is the broadcasts that arte makes tomorrow sunday the 11th of January with a rerun later.