Jon Bang Carlsen: Purity Beats Everything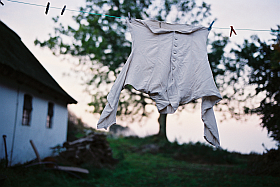 Miriam Lichterman lives in Cape Town with a view to beach and sea. Jon Bang Carlsen lives in a farmhouse with a fine view to a beautiful landscape in Denmark with family, cat and dogs. She is a holocaust survivor, a Polish Jew, who saw the horrors of Auschwitz from the closest distance, he is a filmmaker born after the war. He grew up in the 1950'es in silence when it came to family talk about holocaust.
She is a brilliant storyteller, and so is he. She – with the words of Jon Bang Carlsen –deals with the cruelties as an artist, the only way for her to overcome it, she talks with a sincerety that brings the past into present time. I have to look her into her eyes, the director says, I can not just stay behind the camera. She has told her story again and again, he has to find a way to bring to life one more holocaust survivor story, told by Lichterman and Pinchas Gutter.
"Nothing is ever gone" could also have been the title of this film that is an indirect, non-bombastic poetically told appeal to think about the past and the present. To give the spectator his point of view, Jon Bang Carlsen has chosen to contrast the story of the survivors with images from his farmhouse idyllic surroundings, interrupted by some archive from the horrors – and with a sound score that introduces among other speeches by Hitler, Rimsky-Korsakov "Sheherazade", weather sounds from the Danish farmhouse, a phone that brutally cuts the directors computer-viewing of his material, and last but not least his own voice with clever reflections on the theme of purity and cleansing.
It is a montage with many layers and with some of the usual magnificent images that you only find by this unique Danish filmmaker, who never stops to challenge himself. Image: A shirt on a clothesline blowing violently in the wind. Sound: the screaming insane voice of Hitler to be overtaken by "Sheherazade". Or the marching soldiers of Hitler on the sound track accompanied by pegs on the clothesline moved again by the wind. I could go on, check for yourself this FILMmaker, and meet him on his tour around Denmark (see http://www.cphdox.dk/d1/fa.lasso?n=830 )
or invite him to your festival or film meeting. Or buy his film for television. Danish readers have the chance to read about Carlsen's previous films, written on this blog by colleague Allan Berg.
Denmark, 2007, 52 mins. Information & copies for the press: Daniella.ev@dox-on-wheels.dk +4533931734 / +4528366848