Jonas Poher Rasmussen: Flee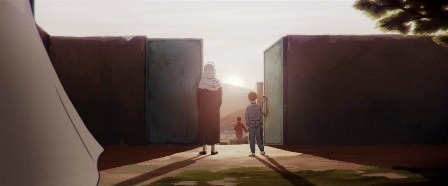 DANISH FILM INSTITUTE wrote yesterday: "Jonas Poher Rasmussen's Flee and Camilla Nielsson's President took home top prizes at Sundance, as the festival celebrated this year's winners during Tuesday night's awards show. The two films, both produced by Final Cut for Real, have garnered rave reviews from international critics. The 2021 Sundance Film Festival announced their awards Tuesday night, with the list of winners including the two Danish documentaries.
The World Cinema Grand Jury Prize for best international documentary went to Jonas Poher Rasmussen for his animated Flee. The film offers a gripping account of how the director's close friend Amin arrived in Denmark as a young refugee from Afghanistan 25 years ago.
Shortly after its world premiere at Sundance on 28 January, Flee was bought for American distribution by Neon, the indie company behind the Oscar winning Parasite. British actor Riz Ahmed and his Danish colleague Nikolaj Coster-Waldau are set to voice the lead roles as Amin and Jonas Poher Rasmussen, respectively, in an English-language version of the film to debut later this year.
Jonas Poher Rasmussen, who has directed the documentary films Searching for Bill (2012) and What He Did (2015), was hailed by international critics for his new film.
"There have been countless movies about the immigration crisis, but none of them have the sheer ingenuity of 'Flee'," says IndieWire, furthermore characterising the film as "activism, therapy, and great cinema all at once".
The Guardian praises the film as a "remarkably humanising and complex film, expanding and expounding the kind of story that's too easily simplified. Rasmussen has created a loving and unsparing tribute to his friend, a brave survivor whose story I'll find impossible to forget."
The Hollywood Reporter describes the film as a "powerful and poetic memoir of personal struggle and self-discovery that expands the definition of documentary," while Variety applauds it for its "unconventional portrait" and sees it as "an incredibly intimate act of sharing". For Screen Daily, "Rasmussen's consideration of one man's journey sheds light on the emotional legacy that can linger even after sanctuary is found".
Flee will be celebrating its European premiere in the Nordic competition at Göteborg Film Festival, ending 8 February.
Flee, which received the Cannes Official Selection stamp in June 2020, is produced by Monica Hellström and Signe Byrge Sørensen for Final Cut for Real and co-produced by Charlotte de La Gournerie of Sun Creature (Denmark), Vivement Lundi (France), Most Film (Sweden) and Mer Film (Norway), in collaboration with broadcasters ARTE France and VPRO in Holland. A domestic release is set for later this year.The film is supported by the Danish Film Institute.