Jorge Léon: Vous êtes servis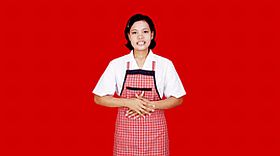 At Cinema du Réel 2009 Jorge Léon's "10 min." was shown, and reviewed on this site (search: Jorge Léon). Subject: Prostitution. This year he continues his social documentary line with a story about Indonese young women, who are being trained to become maids in Taiwan or in the Emirates. The training takes place in a school and Léon has caught many illustrating and funny situations on how to serve. These sequences are mixed with fine stylised monologues from the young women, who simply need to take the jobs as servants for filthy rich people wherever and to almost whatever price. They leave the airplane to enter a new life away from home. Globalisation. There is nothing new or exceptional about this film, we know it all, which should not make tv stations hesitate to get hold of the film and show it to the broad audience it deserves because of its subject.
Belgium, 2010, 57 mins.