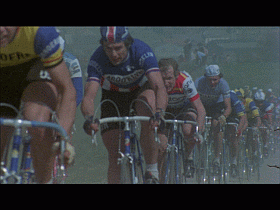 Mid wednes(day) off from Copenhagen with troubled SAS to Amsterdam to attend the 25th idfa (International Documentary Film Festival). On board is also Jørgen Leth on his way to idfa as several times before. This year to be in the main jury with (among others) Michael Glawogger, and to attend his own "My Name is Jørgen Leth" exhibition that is part of the idfa "Expanding Documentary" that opens at 7pm tomorrow November 15th at De Brakke Grond here in Amsterdam.
The exhibition that ran succesfully in Copenhagen – arranged by Danish curator Michael Thouber at the Kunstforeningen Gl. Strand in Copenhagen – gives the visitors the chance to watch (some of) Leth's films, photos, notebooks as well as listening to his commentating bicycling races like Tour de France. One of the many characteristics of the director, who in the car from Schiphol to the hotel immediately fell into discussions about this one of many passions of the Danish director, who has been an inspiration for generations of Danish filmmakers. With Lars von Trier as number one as readers will know from the film "The Five Obstructions".
Which leads to the most important information: You can watch 7 of Jørgen Leth's films for free on the vod Docalliance (link below), a – too use one of the director's favourite words – generous offer to film lovers all over to see "A Sunday in Hell" (Paris-Roubaix race) (PHOTO), "Moments of Play", "Good and Evil", "Notes of Love", "66 Scenes from America", "Haiti Untitled" and "The Perfect Human". A small festival in itself with the usual high quality text intros from the Docalliance people. For free until November 25. A must for all film students! And cinéphiles of course!
http://www.idfa.nl/industry.aspx