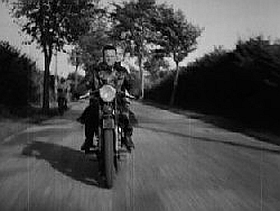 10 years have passed since the death of Jørgen Roos (1922-98), who for decades was THE Danish documentary and short film director. He was – as Hans Christian Andersen, subject for several films by Roos – a brilliant storyteller, who played with the film language, where he very often made commissioned information films into films of a high artistic quality.
In 1948, as a young cameraman, he helped Carl Th. Dreyer make the 12 minutes long short film thriller, "They Caught the Ferry", based on Danish writer Johannes V. Jensen's short story, for the public traffic authorities. Simple message: drive carefully.
… which was what Jørgen Roos, situated with his camera in a side car of a motor bike, did not do. Or more precisely what his driver did not do. They drove into a tree and was according to Jørgen Roos, the storyteller, thrown 15 meters into a corn field. The master himself, Carl Th. Dreyer ran to them and put the most important question (!): Did anything happen to the camera?
If you happen to be in Paris, the film is to be watched at Maison du Danemark on Champs-Élysées. Name of exhibition: Collisions (Until 19/10). For other films of Jørgen Roos, contact the Danish Film Institute.
Still: Jørgen Roos