Karlovy Vary Announces its Programme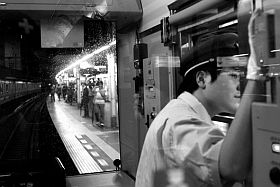 It has always been important for a documentary to be screened at the International Film Festival in Karlovy Vary that this year runs from June 29 to July 7 with a strong programme that was announced two days ago. There is fine variety in countries represented, Brazil and Uruguay as well as Denmark and Poland are on the list with the 16 titles that have been picked.
Helena Trestikova's excellent "Private Universe" is there, the Cannes premiered and awarded "Sofia's Last Ambulance" by Ilian Metev will be screened, and for this film blogger it is exciting to see that Austrian Timo Novotny "Trains of Thoughts" (photo) will have its premiere in Karlovy Vary. Novotny made years ago the fascinating "Life in Loops", a remix of Glawogger's "Megacities". With his new film, the director also works with his friends from the band "Sofa Surfers". This is the short description of the film from the Karlovy Vary site:
The Sofa Surfers' original soundtrack accompanies the special rhythm of Timo Novotny's audiovisual essay as it takes us on a journey through the subways of several world cities, discovering what makes them unique. This whimsical movie stands out for its effective interplay of music and image.