Karlovy Vary International Film Festival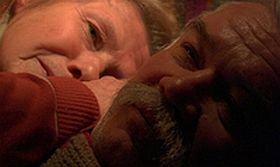 … takes place July 2-10 and has a fine short trailer with Milos Forman. Take a look at the site below.
The festival has through the last years paid more attention to documentaries and this year 16 titles have made it to the international competition. The on this place constantly mentioned "Armadillo" is one of them but 4 others reviewed or noticed will be shown in Karlovy Vary:
Katka by Czech Helena Trestikova, The Mouth of the Wolf by Italian Pietro Marcello, The Player by Dutch John Appel and Together (photo) by Russian Pavel Kostomarov.