Ken Burns: The Civil War 2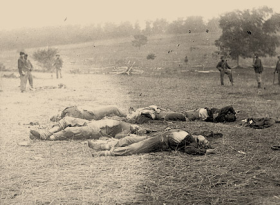 Det er nok sådan, at med denne vældige tv-serie forholder det sig sådan, at rygtet er bedre end sin film. Jeg har de seneste dage set de fleste afsnit, og i aften sender DR2 det sdste kl. 18:05 tror jeg nok. Det skal selvfølgelig ses med. Og mine tanker om det berømte værk holder lige nu status. Jeg er jo forbeholden, for ikke at sige lidt skuffet.
Men det er vist især skuffede forventninger. Og de er egentlig selvforskyldte. Jeg glædede mig til et historisk essay som den seneste serie, men Burns lavede dengang – en nok banebrydende – historisk formidling. Jeg troede på baggrund af The War, at jeg skulle møde en auteurs arbejde, jeg har i stedet mødt en loyal historielærer.
Der er en rigtig forfatter med, ham kommer jeg til..
Men husk nu lige at se sidste afsnit i aften!!