Khaled Jarrar: Infiltrators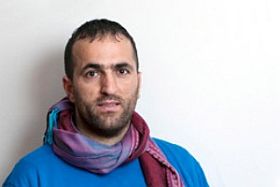 I can not write a review as I have not seen the final edit of the film, and as I have seen material shot by Khaled Jarrar as well as cuts during sessions of the Storydoc programme, I would definitely not be able to be neutral in my judgement. BUT, having said so, it is no surprise at all that Khaled Jarrar (photo), the Palestinian multi-artist, "an amazing artist," I have called him on this site, has won two awards at the Dubai International Film festival that ended yesterday.
The film in question is "Infiltrators", produced by Sami Said and Mohanad Yaqubi, 70 mins. long, that won a Special Jury Prize at the Muhr Arab Documentary Competition as well as the Fipresci (the critics) award.
This is what was written on filmkommentaren.dk almost 9 months ago:
"We met at the office of Idiomfilms in Ramallah to see a first draft of Jarrar's first documentary… We watched a 75 mins. cut of a film that with its non-aggressive approach gives the viewer a unique account of the climbers, big and small, old and young, who go to Jerusalem illegally. To work first of all. It uses a non-linear structure, it has many angles and stylistical elements that wonderfully surprise you as a viewer, who is used to strong films in all genres, aggressive against the Israeli occupation. You have sometimes a clear laugh when you see the different ways of climbing, sometimes you laugh because of the absurdity, and sometimes you are moved and feel angry: this can not be true, this is not civilisation 2012! But it is."
And the catalogue description of the festival in Dubai: The checkpoint is closed. "Detour, detour!" shouts a taxi driver and announces the beginning of the journey. The film unravels adventures of various attempts by individuals and groups during their search for gaps in the Wall in order to permeate and sneak past it.
http://www.dubaifilmfest.com/en/films/detail/mutasalilun/19362/2012