Klara Trencsenyi: Corvin Variations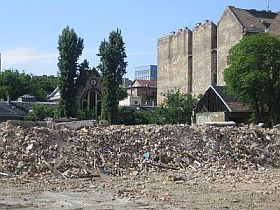 I met Hungarian Klara Trencsenyi at the Astra Film Festival, where her newest work "Corvin Variations" was screened. Two years ago Trencsenyi organised a project development workshop for creative documentaries in Budapest that I took part in. Since then the political situation in Hungary, also called ORBANistan, has worsened drastically, which also has influenced the film funding climate that as in many other areas is said to be suffering heavily from corruption… Back to the film, here is the description taken from the festival catalogue:
"The so-called Corvin Project initiated in 2003 was the largest and most awarded Central European city development project. It envisioned the full transformation of cca. 22 acres in Budapest's 8th district, which implied the demolition of all buildings in that area. Both the local government and the investor wanted to get rid of the "slums" by relocating more than one thousand families – among them many Roma people – who could not afford buying property in the old-new area. The protagonists of Corvin Variations are all local residents who have been relocated in the course of the project – and who recall, with nostalgia and criticism, the life in the old neighbourhood and community. They no longer see each other – they meet only in the reconstructed space created by the filmmakers…"
Out of this theme the director, who already showed her excellence in camerawork in her previous film "Bird's Way", has created a light-toned stylistically playful documentary about memories that disappear as the houses are being demolished, about a neighbourhood where people helped each other, whereas now "people are closed", as one of the characters say in the film that is very much based on cleverly interviews and monologues with the inhabitants, who now, in general, live in the new flats they had to take when they were re-housed. Almost all Romas are out, as are most of the old people, as the flats are too expensive for them.
Hungary, 2011, 39 mins.