Last Train Home i Cinemateket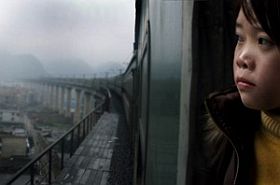 The Danish Cinemateket, that is part of the Danish Film Institute, and works from the Film House in the centre of Copenhagen, shows many documentaries (at one or two screenings) in their fine monthly programme. Recently, Cinemateket, the festival cph:dox and EDN (European Documentary Network) has decided to go one step fuether to introduce a regular "Documentary of the Month", having one film run for a week with several screenings. First title is "Last Train Home" by Lixin Fang. It is shown in Cinemateket September 9-15. Here follows a repost of the Danish language review of Allan Berg on this site. Berg saw the film at Cinema du Réel this year in March:
Åbningen er voldsom indtryksfuld. Set fra en høj kran skildrer kameraet en mængde kinesere – jeg ved jo i forvejen, det er kinesere, men ville heller ikke være i tvivl – det regner, alle farvers paraplyer ses deroppefra og kinesernes tøj som pletter af kulør. Denne uforglemmelige mumlen af folkemængde høres sagte, men den stiger til højdepunktet af larm samtidig med, at kameraet udvider beskæringen af billedet, og mængdens antal vokser og vokser. Det er en uoverskuelig mængde. Det må være alle kinesere samlet. Det land er forfærdende stort, jeg føler jeg drukner.
Det er snart nytår og nytårsfesten er familiens fest. Millioner af arbejdere i byen skal hjem til familien i landsbyerne. Hundreder af kilometre. Og de skal jo alle hjem på én gang. Det er dette sceneri, filmen skildrer. Vi følger et ægtepar, som arbejder på en meget stor systue, hvor der sys blå jeans til eksport. De lever der, yderst beskedent og midlertidigt i årevis. Børnene er hjemme i landsbyen hos farmoderen. Én gang om året rejser de hjem. Det er til nytårsfesten. Og det er nu, de befinder sig et sted nede i mængden som to
farvede pletter blandt tusinder og venter på at blive lukket ud på perronerne til togene. Til det sidste tog hjem. Arbejdet på fabrikken, kampen om pladsen i toget, samværet i familien. Det er filmens hele indhold – men en meget stor rigdom af iagttagelse og forståelse er arbejdet ind i skildringen.
Filmen har disse to blik, det store oversigtlige fra oven, hvor alle venter på at blive lukket ind på perronen, og politi og militær forsøger at holde orden i det angstfyldte. Beskytte den enkelte ser vi. For kameraet, som er vokset ud i den svimlende oversigt fra det nære, vender tilbage til det nære. Det er filmens andet blik. Med det er vi er nede i flokken, nede hos parret, som er vores medvirkende, medvidere. Her er kampen mod angsten, for trygheden. Og trygheden er indkomsten, som kan opretholde hjemmet ude på landet ved den smukke flod og hønen med kyllingerne omkring sig som dengang, som altid. Det nære blik er titlens andet led, det hjemlige.
Men der er ingen nåde. I en ro af smukke, sceniske fastholdelser demonstreres opløsningen af de gamle værdier. Højdepunktet er dels et voldsomt slagsmål mellem far og datter – og senere en lang samtale mellem kvinden og manden tilbage i storbyboligen. To slags kammerspil i en række. Store, lange filmscener, som klippet føjer sammen og hviler i.
Det er forbavsende, at dette tilværelsens overblik, denne gennemarbejdede film er instruktørens første. Fan Lixin har også lavet lyden og det imponerende kameraarbejde. Han er født kinesisk, uddannet i Canada.
Fan Lixin: Last Train Home, Canada 2009, 87min.Manuskript, fotografi og lyd: Fan Lixin, klip: Mary Stephens. Produceret af Eyesteel Films, distribution: Cats & Docs
http://www.eyesteelfilm.com/lasttrainhome