Lazhari Abdeddaïm: hip-hop(e) in the favela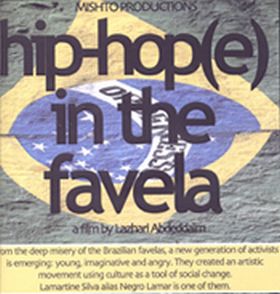 Lamartine Silva is the main character in this committed road movie that takes us around Brazil to discover what MHHOB is doing. Lamartine is one of the hip-hop musical artists, who dedicates energy and time to this activist movement that has change (some of its members say revolt) for the poor as its goal. The movement has its place all over and its representatives go to see and negotiate with people like Gilberto Gil, the minister of culture, singer and composer. Who is part of the establishment that other MHHOB people consider as non-allies in the fight for better living conditions in the favelas, that are very often romantizised.
The well-meaning sociologists and historians study us as rats in a lab, it is said in the film that seeks the opposite: to let Lamartine and his friends report on what they are doing in their anti-racist work.
The road movie structure of the film has its pros and cons. It brings us around but it does not bring us closer to the sympathetic but also somewhat dreamerish and introvert Lamartine. For that reason the director Lazhari Abdeddaïm goes to his family and children to get to know that side of his life. The ex-wife does not hesitate to critizise Lamartine for leaving the family on its own.
We have seen the favela social poverty before, but credit to a film that reminds us that some people do something for change. And thanks for a touching interview scene with 3 small girls. It is the birthday of one of them but there is no money to celebrate with a cake. Asked about what she wants to do when she grows up, the answer is awfully realistic: cleaning, doing domestic work = in a white person's house.
Forgot to say that there is great music (and lyrics) in this film.
Belgium, 2008, 52 mins.