Lithuanian Documentaries – for free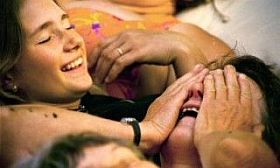 An early christmas present for documentary lovers: The offer to watch artistic short documentaries from the country of filmmakers who, if any, master the poetic film language: Lithuania. In times where these kind of films have problems in getting to the big festivals, that more and more select by subject – political and social – the initiative deserves a huge BRAVO! It comes from DocAlliance, the excellent online portal for Video on Demand offering permanent access to 400 outstanding documentaries selected by the five partner festivals (Leipzig, Nyon, Copenhagen, Warsaw, Jihlava). Twenty new films are added monthly and these can be acquired through streaming or download.
This offer for free streaming of Lithuanian docs runs until the 28th, i.e. this upcoming Sunday. If you want more information – Filmkommentaren has written about Arunas Matelis 12 times, Audrius Stonys 24 times – the two masters, whose works (at least some of them) you can watch, and as for the film "Man-Horse" by Audrius Mickevicius you will find an enthusiastic review. IF you don't have time to watch the films now, you can do it later by paying a cheap fee. The selection of films for video-on-demand is done with competence.
Here comes the list of films and the site address:
Flight Over Lithuania or 510 Seconds of Silence by Arunas Matelis, Audrius Stonys, Lithuania, 8 min
A legendary film, which was one the Top 10 at the international exhibition EXPO 2000 in Hanover/Germany as one of the best films demonstrated at the exhibition.
Man-Horse by Audrius Mickevičius, Lithuania, 52 min
A film about an old farmer Jonas and his horse. An intimate story about the existential relationship between human and animal; it is about solitude and the daily effort to survive.
The First Farewell to Paradise by Arunas Matelis, Lithuania, 15 min
The film seeks to convey the senselessness and beauty of the daily life…
From Unfinished Tales of Jerusalem by Arunas Matelis, Lithuania, 26 min
Film based on a strange old pagan tradition, still preserved in only one village in Semogitia (a part of Lithuania). The tradition goes back to the archaic space of the magic's of folk theater.
Confession by Oksana Buraja, Lithuania, 34 min
A two-part experimental film that explores the very nature of creativity. The second part – Confession – is like an "inside-out" of "Crete Island", revealing the behind-the-camera reality and the brutal creative process which can sometimes lead to certain constraints.
SunDay. The Gospel According to Lift-Man Albertas by Arunas Matelis, Lithuania, 19 min
Although it consists of only 20 shots, this film is a rich allegory that one can read in different ways. Religious references and allusions to Samuel Beckett's Waiting for Godot urge themselves upon us, and Matelis's view of reality is just as sad as it is humorous.
Uku Ukai by Audrius Stonys, Lithuania, 30 min (PHOTO)
A meditative film poem full of rhyming images about movement, old age and the human body.
Countdown by Audrius Stonys, Lithuania, 45 min