Louisiana Museum Behind Film on Per Kirkeby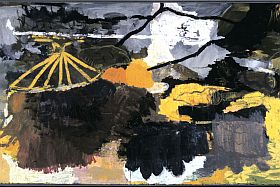 Danish artist Per Kirkeby exhibits more than 100 of his paintings, 50 of his sculptures and works in other genres at Louisiana Museum of Modern Art in Denmark – until 11/1 2009.
My colleague Allan Berg praises below a film on Per Kirkeby, made by Pernille Bech Christensen after idea of Poul Erik Tøjner, the director of the museum.
The film, "Per's Method", has English and German subtitles. A quote from the review: The conversation between Per Kirkeby and Poul Erik Tøjner has been transformed into a beautiful, clever and very important film. The two talk about the method of the painting and about all from work, life and biography that has been painted into the works.
The dvd is part of the catalogue of the exhibition.