Lukas Pribyl: Forgotten Transports 1-4/ 1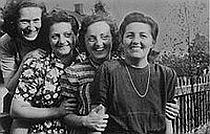 What an achievement! I don't recall, when was the last time that I witnessed so captivating a historical documentary, here told by Czech Jewish survivors of the holocaust. They were interviewed between 2000-2006 by Lukas Pribyl, the researcher, writer and director behind the four 90 minutes long films that share the same title, "Forgotten Transports", with the adding of where the transports went: "to Latvia", "to Estonia", "to Belarus", "to Poland". (The photo represents the "Estonian "Czech Girls"" in "to Estonia").
Put together in a clearly edited non-sensationalistic chronological structure each of the four films takes the viewer on a journey from Czekoslovakia to the ghettos in the countries mentioned and from there to camps – concentration camps, extermination camps. Or to be more precise: the survivors take the viewer with their personal stories, told with shocking and moving details, but also with humour. Watching the film you wonder how it was possible for these people to continue living after they (most of them) lost their families and were so close to the most horrifying brutality and death in circumstances beyond description.
But the film director does so in a way that deserves all respect. All archive material – moving or still images, much of it I guess shown for the first time – are connected to the places, events and time that the storytellers refer to. Discreetly a text is placed in the frame giving the information of name of person talking, or the place we are taken to. With the addition of private photos of the survivors as young people, as well as the killed relatives or friends, or the German SS people and camp superiors. This is not a film about the 2nd WW, there is not a single word from Hitler, there is not a single reconstruction, it is totally based on what human beings remember from their childhood and youth. Put together in four films that are different as their fates were different, some timesvery hard to watch and listen to, some times you smile. It is about Czech Jews but the stories have an universal appeal.
The musical score also deserves a mention for its high quality. Peter Ostrouchov avoids all film music klichés and pushes for sentimentality, for me his music places the viewer in a state of reflection.