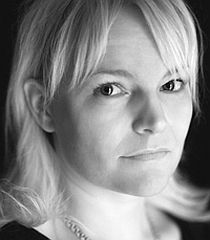 My Danish writing blog colleague writes above, under the caption "Oscar kritik", linking to a group of festival people, who object to the selection of films nominated for this years documentary Oscar. He proudly mentions that two Danish films are mentioned in the alternative list that the festival people have set up: Asger Leth's "Ghosts of Cité Soleil" and Pernille Rose Grønkjær´s "The Monastery".
This gives me the chance to round up the festival "Magnificent7" in Belgrade that ended with the screening of "The Monastery" at the Sava Centre in Belgrade.
1500 people saw the film, Pernille was there, and this old doc-blogger got tears in his eyes experiencing that a film about an old man and his dream, Mr. Vig, captures the hearts of everyone.
"The Monastery" is the best that has happened to Danish documentary for years.
… and the "Magnificent7 Festival" is unique and Magnificent! Organised and spirited by Svetlana and Zoran Popovic.
Photo: Pernille Rose Grønkjær (Erik Molberg Hansen)