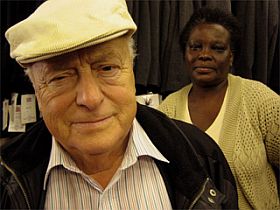 It is such an adventure to go to the cinema for four days to watch 7 films that are received with enthusiasm and emotion by the most wonderful audience I know, the one in Belgrade. You can not overestimate the experience it is to sit in a hall full of spectators of all ages. There were full houses, 500 for the screenings in the small hall, 1500 for the closing film in the big auditorium of the Sava Centre.
The films were Blind Loves (Juraj Lehotsky), The Mother (Antoine Cattin and Pavel Kostomarov), Shake the Devil Off (Peter Entell), Vesterbro (Michael Noer), Oblivion (Heddy Honigmann), All White in Barking (photo) (Marc Isaacs) and Sleep Furiously (Gideon Koppel). The directors were present and did a masterclass with young Serbian filmmakers the day after the public screening. To represent Vesterbro the main character Julie Pedersen took part, for Oblivion the producer Carmen Cobos was in Belgrade.
The festival was organised by Svetlana and Zoran Popovic, filmmakers themselves, running the film school Kvadrat. The young documentarians Mila Turajlic, Sonja Blagojevic, Jelena Stankovic and Andrijana Stojkovic were managing and coordinating this unique festival. I had the privilege, as in the previous five years, to co-select the films.