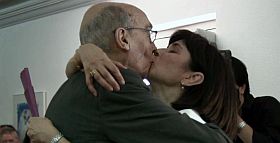 Edition 8 of the Belgrade based feature length European documentary festival. The opening was last night and the audience was there again, hundreds, maybe almost 1000 spectators for each of the two films that were screened in the big hall of the Sava Centre. Zoran Popovic, who is the mastermind behind the festival together with his wife Svetlana, the two people with whom I since the beginning of the festival have been working on the selection of the 7, and it is only 7, magnificent films, made a beautiful speech including the mention of the sad news about the tragic death of Greek and European director Theo Angelopoulos, a source of inspiration for all filmmakers and art film lovers.
British director Gary Tarn was back in Belgrade with his "The Prophet" that includes material that he shot when he was in Belgrade in 2007 to show "Black Sun". Again he puts you as a spectator in a wonderful meditative mood with his flow of images that you can dive into and that juxtaposes with the text, that he has chosen from cult author Khalil Gibran (1883-1931), whose classic "The Prophet" he wrote in 1923.
The second film at the opening evening was Portuguese director Miguel Mendes "José and Pilar" (photo), featuring nobel prize winner José Saramago and his wife, journalist Pilar del Rio. The film has many layers. It is a love story. It is a story about an old man, an extremely charming old man and his fight against Time. It is a story about a journalist who dedicates all her time to her husband, managing his legacy in a very efficient and caring manner. It is a light film, with a lot of humour, and it works so well because of the details Mendes has caught during the four years that he was following the couple. They "adopted" me, said the director in the Q&A after the film.
Today, thursday, there is one film on the agenda: "Ramin" by Audrius Stonys from Lithuania. Stonys is here as is his Latvian producer Uldis Cekulis.
From a Belgrade full of snow, and handball fans and supporters. Why are sport journalists so fat, said my wife this morning at Hotel Continental, at the breakfast the morning after Denmark qualified for the semifinals against all odds after the first matches.